Let's face it, a lot of us are still working from home. As the pandemic waxes and wanes, we still have work to do, whether that's in an office, or on Zoom.
The gift of an office is the natural time blocking it provides. Work happens at work during the time you are present, and it's associated with a place.
But, what about working from home?
As an executive function coach, I support mostly ADHD and neurodivergent individuals. For us, time blindness, hyperfocus and a lack of time management comes up frequently. ADHDers don't work on linear time. Many prefer the time block and predetermined space of an office to push us along that linear timeline. A fellow community member described NDT (neurodivergent time) as spiral time. I love that explanation because it reminds us we see time as a circle that never ends. But how does this help us at work? Work deadlines, meetings, and projects all follow linear time.
I'm coaching a client right now who has a lot of trouble getting work projects done while at home. We could call this procrastination, but it's not. It's a lack of balancing satisfying and unsatisfying tasks. She has an art studio at home and loves to paint and express herself through that medium. Working from home has been difficult because she just wants to paint. So we made a plan for time blocking her studio days/visits. On Sundays, she's in the studio. Mondays, she's mostly completing work tasks. Tuesdays and Wednesdays she has to make calls so her studio time is after office hours. But, she still spends 1 hour in the studio between 10am and 4pm.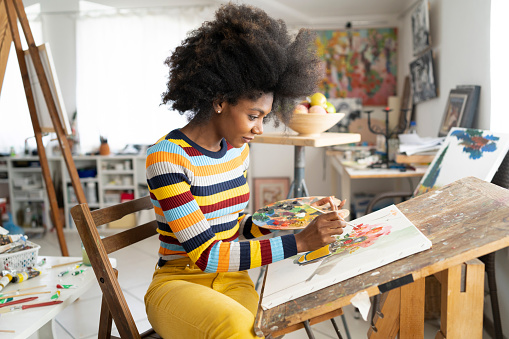 When she is in a groove with office manager tasks, she works more quickly than the average employee. This is because she's given herself space to be creative the day before, or the hour before and is not burnt out. Creative expression is energizing when harnessed to offset mundane or less creative tasks.
Some of my clients prefer to build their creative tasks right into their work day for all 5 days. They'll block their 30 minute break for drawing, writing, or recording a podcast around scheduled meetings.
To make linear time work for you, there is also a lot of "psyching yourself out."
"Oh, if I finish all of this I can spent the last 5 hours of the day in the studio, or writing, or creating and cooking up a delicious recipe for friends."
Whatever is inspiring to you, as an ADHDer, you must do that work. Get in the flow so you can recognize how it feels. And build time slots for your creativity. Your work day will fly by!